Joseph Pulitzer

Pulitzer is a redirect to this article. For other meanings, see Pulitzer (disambiguation).

This article or subsequent section is not sufficiently supported by evidence (e.g., anecdotal evidence). Information without sufficient evidence may be removed in the near future. Please help Wikipedia by researching the information and adding good supporting evidence.

Joseph Pulitzer, also József Pulitzer (born April 10, 1847 in Makó, Kingdom of Hungary; † October 29, 1911 in Charleston, South Carolina), was a Hungarian-American journalist, editor, and newspaper publisher. He is the founder of the Pulitzer Prize named after him.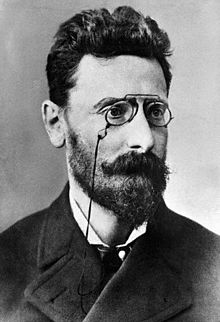 Joseph Pulitzer


Quotes
"There is no crime, no trick, no hoax, no vice that does not thrive on secrecy. Bring these secrecies to light, describe them, ridicule them before all eyes. And sooner or later public opinion will sweep them away. Making known alone may not be enough-but it is the only means without which all others fail."
"A message is not a message until the second look confirms the first look."
Life and work
Youth and emigration
Joseph Pulitzer was born in 1847 in Makó, Hungary, near Szeged, the eldest son of a wealthy Hungarian Jewish grain merchant and a strict Catholic German mother. He had a younger brother, Albert, who was training for the Catholic priesthood. After the family moved to Budapest, Pulitzer was educated in private schools and by private teachers. At 17, he applied unsuccessfully - deemed unfit - to the Austrian Army, the French Foreign Legion for service in Mexico, and the British Army for service in India. Finally, in Hamburg, he succeeded in registering for the U.S. Union Army, and arrived in the U.S. via Boston in 1864; there he served in the 1st New York Cavalry Regiment, composed mostly of Germans, until the end of the Civil War. Pulitzer could communicate very well in German and French, but hardly at all in English. After many odd jobs, including as a baggage porter and waiter, he became an American citizen in 1867. By this time he spoke and wrote excellent English, and he also had a law degree.
Journalist and publisher
Seeking employment, he came to St. Louis, Missouri, in 1868 and was hired by Carl Schurz as a reporter for the German-language Western Post. He became editor and co-owner of the newspaper in 1871, which he left in 1873.
He was then editor of the "Saint-Louis-Globe-Democrate" for several years. He then founded the evening newspaper "Post-Dispatch", whose circulation he was able to increase to 40,000 within half a year, so that he had to purchase two rotary presses.
In the spring of 1878 he married Kate Davis, a well-known Washington socialite, at the Protestant Episcopal Church.
After an episode as a correspondent at the New York Sun, he bought the St. Louis Evening Dispatch in 1878 and merged it with the Evening Post in 1881 to form the St. Louis Post-Dispatch. In 1883, he added to this by acquiring the financially troubled New York World, which under his leadership became one of the most important and influential newspapers in the country (with a circulation of 600,000) over the next ten years. Unlike its competitors, it carried sensational articles, meticulously researched reportage on government and business corruption and other abuses, and the first (later color) cartoons. In 1883 Pulitzer succeeded in initiating a major advertising and fundraising campaign for the construction of the base of the Statue of Liberty at World to raise the necessary funds.
In the struggle for ever higher circulations, Pulitzer was personally attacked by the editors of competing newspapers, especially the editor of the New York Sun, beginning in 1890. His health (he presumably had diabetes) deteriorated drastically as a result, and he retired as editor in 1890 at the age of 43, nearly blind. Nevertheless, he maintained strict control over his newspapers and communicated with his editors in code. The new color printing was a sensation when a comic strip appeared in the World in 1895 by cartoonist Richard F. Outcault, whose main character, a young boy, wore a long yellow shirt. The series was named The Yellow Kid after him - and this comic strip coined the term "yellow press," or sensational press, to this day. In 1887 he hired the investigative journalist Nellie Bly.
In 1895, William Randolph Hearst bought the New York Morning Journal, copying the style of successful reporting of his former mentor Pulitzer. From 1896 to 1898, Pulitzer's World became embroiled in an unprecedented campaign with Hearst's Journal. Both newspapers tried to outdo each other in the battle for higher circulation with sensationalist reports, some of which were manipulated. With their coverage of the Cubans' struggle for independence against the Spanish colonial power, they so inflamed the mood in the country against Spain that Congress finally agreed to a declaration of war by U.S. President William McKinley after the warship USS Maine exploded for unexplained reasons in Havana harbor on February 16, 1898, killing 260 people.
After the four-month war, Pulitzer's World distanced itself from this kind of journalism and pursued unsparing, well-researched, investigative journalism. This got him and his newspaper into big trouble when in 1909 he exposed the Panama Canal bribery scandal, i.e. the payment of 40 million US dollars by the USA under US President Theodore Roosevelt to the French Panama Canal Company. Pulitzer was subsequently sued by Roosevelt and financier J. P. Morgan. Pulitzer emerged victorious from the libel trial, which he celebrated as a victory for free journalism and made him even more popular.
Politicians
In 1869 Pulitzer was elected to the Missouri House of Representatives as a member of the Republican Party. In the 1872 presidential campaign, he, like many other progressive Republicans, supported newspaper publisher Horace Greeley as a candidate against Civil War hero General Ulysses S. Grant. Despite the best efforts of Pulitzer and Schurz, who had become a Missouri senator in 1868, Grant, the 18th U.S. president, was elected to a second term. In 1884, Pulitzer was elected to the U.S. House of Representatives.
Will
The New York Philharmonic received a bequest of $700,000, which his heirs unsuccessfully appealed.
In 1892, Pulitzer's monetary donation for the founding of the first school of journalism was not accepted. Therefore, in his 1904 will, he directed that the endowed two million dollars be used to establish a "School of Journalism" and to award a journalism prize. It was not until 1912, a year after his death, that the School of Journalism was founded at Columbia University, and the Pulitzer Prize has been awarded annually since 1917.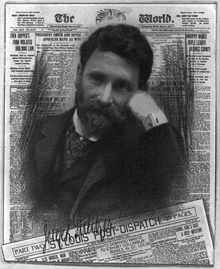 Joseph Pulitzer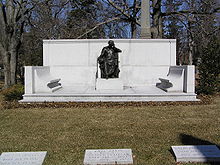 Pulitzer's grave at Woodlawn Cemetery in the Bronx, New York City.