Griffith Park
34.13333333-118.3Coordinates: 34° 8′ N, 118° 18′ W
Griffith Park is a large park located at the eastern end of the Santa Monica Mountains in the Hollywood neighborhood of Los Angeles. With an area of 17 km², it is one of the largest urban parks in North America and the second largest urban park in California after Mission Trails Regional Park in San Diego.
The founder of Griffith Park is Colonel Griffith, who bought Rancho Los Feliz near the Los Angeles River in 1882 and initially established an ostrich farm there. At the time, ostrich feathers were a popular material for making ladies' hats. The real raison d'être for the ostrich farm, however, was to attract Los Angeles residents to the building lots Griffith was also selling there. After the building boom died down, he donated twelve square miles of his acreage to the city of Los Angeles on December 16, 1896. Griffith was later sentenced to prison for aggravated assault on his wife. After his release, he attempted to finance the construction of a planetarium, an observatory, and an outdoor stage in the park he had founded. However, due to his tarnished reputation, the city of Los Angeles refused to accept the money offered.
In 1912, Griffith dedicated another 40 acres in the northwest section of the park, just along the Los Angeles River, to "doing something to promote aviation." Thus was born the Griffith Park Aerodrome, which was later turned over to the National Guard Air Service. After Griffith's death in 1919, the City of Los Angeles began to build the originally planned projects in stages after all. The open-air stage, called the Greek Theatre, was completed in 1930, and the Griffith Observatory in 1935. Through further land donations and purchase agreements, the park gradually grew to its present size. The park is open from 5 am to 10:30 pm.
On October 3, 1933, the Griffith Park Forest Fire occurred. Twenty-nine firefighters died in this forest fire. It is one of the worst firefighting disasters in the history of the United States.
Within the park is the 521 meter high Mount Lee. Its southern slope is the site of the world-famous Hollywood Sign. Below the sign runs the eastern portion of Mulholland Highway. Mount Lee itself is private property and not open to the public.
Since 2012, the park has been the territory of a male cougar (Puma concolor) that migrated from the Santa Monica Mountains.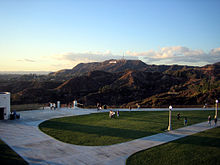 Mount Lee with the Hollywood Sign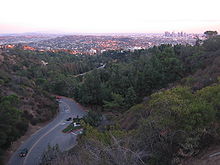 Griffith Park with the Los Angeles skyline in the background