Donetsk Oblast
Donetsk Oblast (Ukrainian Донецька область Donetska oblast; Russian Донецкая область Donetskaya oblast) is an administrative district of Ukraine. The oblast is located in the Donets Basin, a heavily industrialized area, and is one of the most economically important and densely populated regions of Ukraine.
The oblast was formed in 1932 with a larger territorial scope. It has existed in its present form since 1938, when the newly formed Voroshilovgrad Oblast (now Luhansk) left the previous oblast. From 1932/38 to 1961 it bore the name Oblast Stalino in honour of Stalin, analogous to the name-giving city of Donetsk, although under German occupation between 1941 and 1943 the name Yuzovka was used. The area is 26,517 km². The population in 2014 was 4,343,900 people. The centre and eponymous district capital is Donetsk, with a population of just under one million. The Donetsk People's Republic was proclaimed on the territory of the oblast in April 2014. Since then, a large part of the area is no longer controlled by the Ukrainian government; the administrative center for the parts of the oblast under Ukrainian control was moved to Mariupol on June 13, 2014, and finally to Kramatorsk on October 13, 2014.
Donetsk Oblast is located in the south-east of Ukraine, it covers 4.4% of its territory. The region has a favorable climatic and geographical position in Ukraine, as it is mostly flat and offers good agricultural opportunities. The continental climate has always favoured settlement and use. On the one hand, there is humus-rich soil with a layer thickness of up to one meter, but on the other hand, there is a lack of sufficient natural water supply. Donetsk oblast borders Kharkiv oblast to the northwest, Luhansk oblast to the northeast, Russia (Rostov oblast) to the southeast, the Black Sea to the south, Zaporizhzhya oblast to the southwest, and Dnipropetrovsk oblast to the west.
The abundance of raw materials, e.g. coal and metals, forms the basis of the economy, but at the same time pollutes the environment. In addition, the technical standard of the coal mines is outdated; serious mining accidents occur time and again. Close economic ties, not only within Ukraine but also with Russia, access to the Sea of Azov and well-developed transport routes had a positive effect on the economic situation of the region until the outbreak of the armed conflict.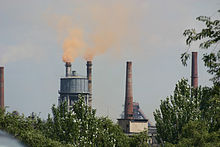 Heavy industry, partly in dilapidated condition, characterises the image of the region



Donetsk Oblast Administration with the Iron Palm of Mertsalov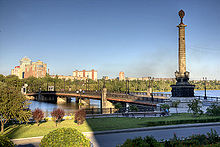 The Kalmius in Donetsk


Administration breakdown
Donetsk oblast is administratively divided into 18 rajons and 28 cities directly under the oblast administration. These are the cities of Avdiivka, Bakhmut, Kharzysk, Debaltseve, Dobropillya, Dokuchayivsk, Druzhkivka, Horlivka, Yasynuvata, Yenakiyev, Kirovsk, Kostyantynivka, Kramatorsk, Pokrovsk, Lyman, Makiyivka, Mariupol, Myrnohrad, Novohrodivka, Shakhtarsk, Zhdanivka, Selydov, Slavyansk, Snishne, Tores, Toretsk, Vuhledar, and the oblast's eponymous administrative center, the city of Donetsk.
Donetsk oblast rajons with their administrative centres
Donetsk oblast is divided into 18 rajons:
Rajon

Administrative headquarters

Area

German designation

Ukrainian name

Transcription

km²

Amvrosiyevka Rajon

Амвросіївський район.
Amvrosiivsky rayon

Amvrosiyivka
(city)

1.455

Rajon Bachmut

Бахмутський район.
Bakhmutsky rayon

Bachmut
(City.)

1.687

Dobropillja Rajon

Добропільський район.
Dobropilsky rayon

Dobropillja
(city)

949

Rajon Jassynuwata

Ясинуватський район.
Yasynuvatsky rayon

Jassynuwata
(City)

809

Kostyantynivka Rajon

Костянтинівський район.
Kostyantynivsky rayon

Kostyantynivka
(city)

1.172

Rajon Lyman

Лиманський район.
Lymansky rayon

Lyman
{ "city".)

1.018

Marjinka Rajon

Мар'їнський район.
Marjinsky rayon

Marjinka
(City.)

1.350

Nikolske rayon

Нікольський район.
Nikolsky rayon

Nikolske
(settlement of urban type)

1.221

Novoazovsk rayon

Новоазовський район.
Novoazovsky rayon

Novoazovsk
(city)

1.000

Oleksandriwka Rajon

Олександрівський район.
Olexandrivsky rayon

Oleksandriwka
(settlement of urban type)

1.010

Rajon Manhush

Мангушський район
Manhushsky rayon

Manhush
(settlement of urban type)

792

Pokrovsk rayon

Покровський район.
Pokrovsky rayon

Pokrovsk
(city)

1.316

Shakhtarsk district

Шахтарський район.
Shakhtarsky rayon

Shakhtarsk
(city)

1.194

Slovyansk oblast

Слов'янський район
Slovyanskyi rayon

Slowyansk
{ "city".)

1.274

Starobeshev Rajon

Старобешівський район.
Starobeshivsky rayon

Starobeschewe
(settlement of urban type)

1.255

Telmanov Rajon

Тельманівський район.
Telmanivsky rayon

Telmanowe
(settlement of urban type)

1.340

Velyka Novosilka Rajon

Великоновосілківський район.
Velykonovosilkivsky rayon

Velyka Novosilka
(settlement of urban type)

1.901

Volnovakha Rajon

Волноваський район.
Volnovsky rayon

Wolnowacha
(city)

1.848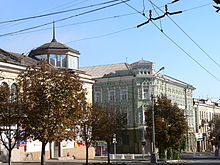 Mariupol, the second largest city of the oblast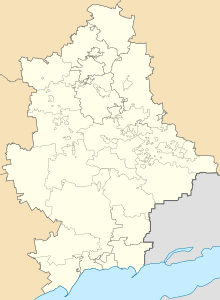 Map with the rajons of the oblast
Largest cities
City
(Russian name in brackets if different)

Ukrainian name

Russian name

Residents
1 January 2006

Donetsk

Донецьк

Донецк

993.519

Mariupol

Маріуполь

Мариуполь

479.959

Makiyivka (Makeyevka)

Макіївка

Макеевка

372.778

Horliwka (Gorlowka)

Горлівка

Горловка

275.452

Kramatorsk

Краматорськ

Краматорск

173.310

Slowjansk (Slavyansk)

Словьянськ

Славянск

121.394

Yenakiyevo (Yenakiyevo)

Єнакієве

Енакиево

94.408

Kostyantynivka (Konstantinovka)

Костянтинівка

Константиновка

86.828

Bachmut

Бахмут

Бахмут

80.227

Pokrovsk

Покровськ

Покровск

66.912

Tores

Торез

Торез

64.789

Druschkiwka (Druzhkovka)

Дружківка

Дружковка

62.766

Charzysk (Charzyssk)

Харцизьк

Харцызск

61.773

Shakhtarsk (Shakhtyorsk)

Шахтарськ

Шахтёрск

55.043

Snishne (Sneschnoje)

Сніжне

Снежное

52.999

Myrnohrad (Mirnograd)

Мирноград

Мирноград

52.241

Torezk

Торецьк

Торецк

39.491

Jassynuwata (Jassinowataja)

Ясинувата

Ясиноватая

36.918

Avdiivka (Avdeevka)

Авдіївка

Авдеевка

36.243

Dobropillja (Dobropolje)

Добропілля

Доброполье

33.375

Kirovskoye

Кіровське

Кировское

29.367

Debaltsev (Debaltsevo)

Дебальцеве

Дебальцево

28.160

Lyman (Liman)

Лиман

Лиман

25.314

Selydowe (Selidowo)

Селидове

Селидово

25.139

Wolnowacha

Волноваха

Волноваха

23.830

Dokuchayivsk (Dokuchayevsk)

Докучаївськ

Докучаевск

23.736

Kurachowe (Kurachowo)

Курахове

Курахово

20.746

Amvrossiivka (Amvrossiyevka)

Амвросіївка

Амвросиевка

20.705